Golden Buddha
Havening & Hypnotherapy
WELCOME TO GOLDEN BUDDHA HAVENING AND HYPNOTHERAPY
I am here to help you navigate the parts of life where you could use some extra support.
The more you engage with self-care, the more resilient you will become.
The more resilient you become, the more capable you are of handling the challenges life places in your path.
Are you feeling stressed, anxious, tired, frustrated or overwhelmed?
Perhaps you're having trouble thinking clearly or sleeping peacefully?
You might be in a position that requires you to be responsible for others as well as yourself?
Cumulative Stress can take its toll.
It can creep up slowly, without us even realizing that we have reached a tipping point – until we are in crisis.
Easy access to my Online Calendar. Schedule a single session or purchase a package of 6 sessions to be fully supported as you create desired changes.
There are times where the past gets in the way of being present in the way we would like to be.
We may have traumatic memories that we're unable to move beyond, developed fears or phobias or have limiting beliefs that keep us stuck.
The work we do together can help you create the changes that will allow you to enjoy being back in the drivers seat of your life.
Challenges happen in our day to day lives. The tools you learn will help you throughout your entire life.
Change doesn't have to be painful and difficult. It can be gentle, self directed and hopeful; leaving you feeling empowered, resourceful and at peace.
You may be doing really well at managing all that life places in your path, but realize that you're running at maximum output most of the time.
How do you squeeze in enough time for self care?
What if you could learn self help tools that you could take along with you everywhere you go?
What if you could use this simple set of tools in the few minutes you have here and there in between your other duties and responsibilities?
What if you could use these tools with your kids to help them manage their stress and overwhelm?
What if these tools could also benefit others who were sharing their overwhelm with you in hope that you could help them?
I will help you engage with a unique set of protocols to manage life stressors and support you as you continue strengthening your resilience.
Unsure if online might be a good fit for you? I'm happy to offer a short complimentary session so that you can experience firsthand just how personal online work can be.
Connection happens when there is a space to feel safe and heard.
Working together ONLINE from most anywhere in the world.
REVEAL YOUR INNATE CORE BRILLIANCE
The story of the Golden Buddha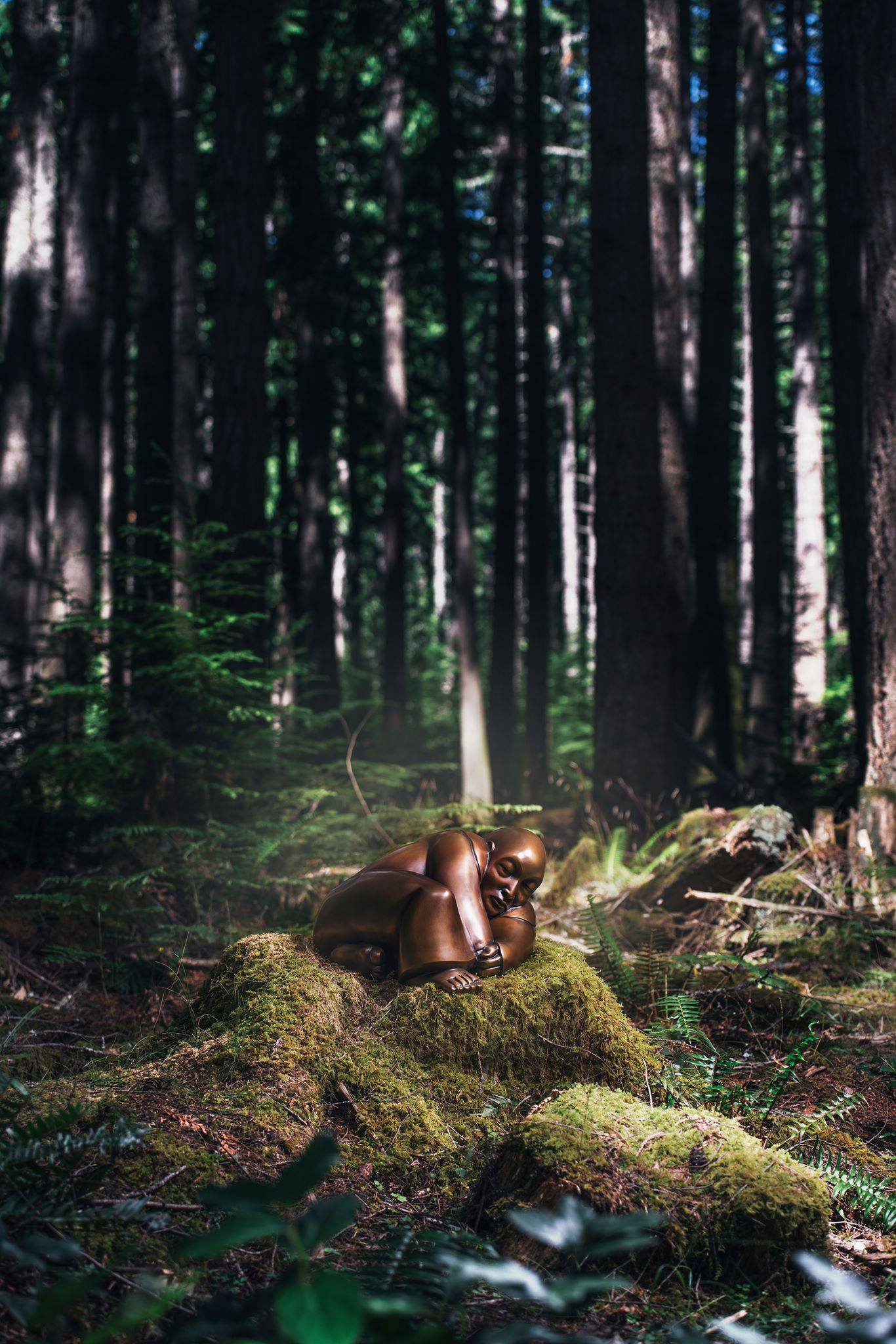 In 1955 a group of monks in Thailand were given the incredibly challenging task of relocating a monumental statue of a cherished Buddha to make room for a new highway.
While attempting to lift the colossal sculpture from its pedestal, the ropes securing it snapped under the immense weight. The precious Buddha fell to the ground hitting hard and shattering away small bits of its plaster coating. Upon close inspection of the damaged areas, a curious golden reflection could be seen shining through the thick layers of stucco. The tenacious monks carefully started chipping away at  the dense shell determined to free the hidden treasure. To their amazement, this labour of love revealed a solid Golden Buddha that had been safely hidden away for many, many years.
The story goes that close to two hundred years before discovering this amazing treasure, it had been completely covered over with layers of stucco and coloured glass to conceal its true value. The caretakers had masterfully disguised their precious idol to prevent it from being looted during an attack on their temple. The secret of the plaster statue was accidentally revealed when it fell to the ground during the move.
By falling to the ground the Golden Buddha was finally set free to fully embody its magnificence, true brilliance and infinite worth.
I work as a Certified Havening Techniques® Trainer and Practitioner who is professionally trained in the highly effective complementary healing modalities of Transformational Life Coach, EFT, NLP and Clinical Hypnotherapy.
These powerful sets of tools allow us to work collaboratively – in a compelling – yet very gentle way – throughout the transformational process. We are able to identify and release or transform that which had previously seemed immovable; giving place to a life of alignment and the hope of moving forward into new and expanded possibilities with grace and ease.
I HELP PEOPLE WHO
Have a desire to heal, transform or create positive change in the way they relate with themselves and/or others
Are willing to look beneath the surface to do the work that will ultimately help them resolve any deep or long-standing challenges in their life – giving way to freedom from a limiting past while creating a purposeful future with unlimited possibilities
Are encouraged by working collaboratively in a solution focused, neuroscience based approach toward their desired outcome
Wish to work in a client centred, compassionate and non-judgemental environment where they will be empowered and supported unconditionally
Together we will "sculpt" your soul deep freedom while revealing your innate core brilliance.
Video Interview with Lynn and Tony Burgess about how Golden Buddha Havening & Hypnotherapy came into being.  
"The session with Lynn was a very gentle yet effective approach to reducing stress on a topic that was keeping me up at night. It did enable me to move forward by connecting with a Consultant to talk through options, and 6 months later I have my issue resolved. Without Lynn's guidance with EFT I may not have felt comfortable opening up this conversation, and still be stuck where I was. Try it for yourself, and see the interesting shift in yourself."

---

"If you want to cut to the chase on what is blocking you from becoming who you really are, set up some EFT sessions with Lynn. She has a remarkable ability to locate deep inside you energy which you didn't know you had. For me it was incredibly profound, yet very safe, and the sessions with Lynn have been a significant factor in my success an an entrepreneur."

---

"Lynn works with calm insight, holding the space for her clients to discover how to trust their own insight and wisdom. She does this without judgment or reserve, with faith that, if she pays complete attention to you and your process, and asks you carefully crafted questions, you will unearth your treasure and know what to do with it. I recommend her without reserve."

---

"I began working with Lynn soon after I published my first book (a memoir) and launched a non-profit organization. I have also been working on a career change, moving from technology to more creative pursuits. Lynn has been an amazing coach, helping me to trust my instincts and overcome self-doubt and other limiting beliefs and self talk. I would highly recommend her to anyone willing to honor their true selves, accept empowerment, and step towards their dreams."

---

"Working with Lynn is an absolute joy, even when we are working on something that may not be considered joyful! ... Perhaps especially in those times!

Lynn always creates a welcoming, warm, safe and loving space where I feel completely free to "come as I am" no matter what that is for me at the time.

She has been instrumental in my process of self discovery, learning to fully embrace life, to recognize my gifts and allowing myself to let them begin to shine through. We have worked together mainly using EFT, Matrix Reimprinting and Havening Techniques, but Lynn also draws upon all of her experience, training, skills and knowledge; intuitively and expertly weaving them into our sessions.  She has been a trusted guide, assisting me as I discover and integrate new levels of understanding and perspective on my journey of transformation. Lynn is a kind, compassionate, intuitive and truly gifted practitioner and person.  I would not hesitate to recommend her to others".

---

"Lynn is gentle, deeply insightful, and trusting. She begins as a gifted sculptor. You can see it and feel her energy in the way she is able to release the essence of the stone with which she works.

Likewise, she uses her keen intuitive senses and healing skills to help her clients discover inner essence and strength. Her intuition led her to create a questioning process called Heart Q - gleaning wisdom by listening to the heart. This, together with her healing skills, help clients work through difficult or painful situations.

Clients come to her agitated with worry or stress. But with a combination of Heart Q and healing skills, they leave feeling more grounded, clearer about actions to take, and empowered to face the challenges ahead.

She is a masterful coach and healer - a soul-deep person who helps to bring calm and peace to our sometimes fractured world."

---

"I have had a number of opportunities and the great pleasure to be a client with Lynn over the last year. What I have so enjoyed is the compassionate and non-judgemental  environment she has provided in the sessions. This made it feel very safe for me to be vulnerable and share - allowing me to work on deeply rooted and intimate issues. I also so appreciated ALL of the tools and techniques she has in her wheelhouse - I was privileged to experience her skills as a Life Coach, and an EFT Practitioner and a Havening Techniques Practitioner. She is good at what she does! And ultimately of the greatest significance was that the work I did with Lynn has helped me - I have connected more to my truer self and have found more ease and happiness: it is so nice to feel better. I can confidently recommend Lynn's services: she facilitated a gentle way to big healing for me."

---

"Lynn came into my life at a time when I was desperately in need of a healing transformation.  Her gentle kindness is surpassed only by her skill. Know that you can make the changes you need to make and that she will be present to guide the process.  Fear and anxiety were preventing me from moving forward both personally and professionally and through the work that we did together I was able to leave the negative patterns behind.  I am so grateful to Lynn for the wonderful work that she does! I approached Lynn Demers because I was looking to change behaviours and thought patterns I've held for my most of my life which do not support me and were preventing me from moving on with my life."

---

"Lynn is an incredible coach and an extraordinary human being. She has the unique ability to see straight through to your soul and guide you exactly where you need to go. Her deep presence is nothing less than profound and if you get the chance to work with her grasp it with both hands, you won't be disappointed. I am happy to recommend Lynn with every fiber of my being. She will help you to push the membrane of possibility in your life and enable you to become all you were meant to be. Seriously, what are you waiting for?"

---

"Lynn helped me using Havening Techniques. I had become stuck in a lifelong story that was not serving me well. Lynn is and has been generous, skillful, intuitive and patient as she expertly guided my process. I was able to gain clarity and perspective very quickly and with lasting results. I left her office with some effective self-help tools to craft my new, more resilient life story and I feel so much lighter, more confident and at peace with myself.

I highly recommend Lynn and Havening Techniques to meet you where you are and guide you to where you want to be."

---

"I cannot say enough about the tremendous effects Havening has had on me. Lynn's skill using all the modalities she has mastered was absolutely critical in resolving my severe anxiety attack and break down after receiving my brain cancer diagnosis. The work we were able to do and still do is a foundation for the positive and successful healing and resolution of these health challenges.

I went from terror to empowerment and have tools to face my anxieties & fears, and I am able to embrace health completely.

I would recommend Lynn as a vital role to any health solution."

---

"I've found Lynn to be a highly effective guide and coach, and was completely blown away by what I got out of session. In fact, I feel like I made such a giant leap in one session that it took me at a few months to see what I might want to work on next. As someone who has worked with coaches in the past, I think this is the sign of a really great coach - someone who not only cultivates my insight and self-awareness, but who can ALSO get me to a place where I feel truly free from from an issue that has kept me from moving forward.

Lynn demonstrated terrific intuition and skill in honing in on the root cause of what was giving me stress and anxiety, without my necessarily needing to name it at the outset. This is a rare gift in the world of coaching, to be sure."

---
SCHEDULE YOUR APPOINTMENT  
LEARN MORE
Email: lynn@goldenbuddhalife.com to book a 20 minute Complimentary telephone conversation to answer any questions or to explore if we might be a good fit for working together.
Call: +1 (778) 608-0719
Get monthly email updates on ideas, tools, stories, insights and offerings.
All sessions take place online from the comfort of your home or office.
Lynn Demers at Golden Buddha Havening and Hypnotherapy is a certified practitioner of Havening Techniques®. Havening Techniques is a registered trade mark of Ronald Ruden, 15 East 91st Street, New York www.havening.org