Golden Buddha
Havening & Hypnotherapy
WELCOME TO GOLDEN BUDDHA HAVENING AND HYPNOTHERAPY
I am here to help you navigate through life's challenges.
To remain solid, grounded, resilient and centered in the core of your being.
 To resonate with your inner Golden Buddha.
Are you feeling stressed, anxious, tired, frustrated or just plain overwhelmed?
Having trouble thinking clearly or sleeping peacefully?
Head in a fog, a lot on your plate, too many details to manage on your own?
You're at the right place.
You may be feeling guilty or ashamed knowing that you're not showing up the way you want to in your relationships with family, friends or the people you interact with on a day to day basis.
That's ok, we got this!
Where did that joyful, calm, centered and capable person go?
How can you be of service to anyone when you struggle to put aside the time or the energy to even take care of yourself?
Together, we'll figure it out …
What are you willing to put down for now? What are you doing or thinking that may be contributing to this way of being? How do you carve out the space and the time to get back to yourself?
You already have all the resources you need within yourself, together we will tap into these resources and get you to get to a better place.
Golden Buddha Havening and Hypnotherapy is a system for helping you reconnect with the person you long to return to. To help you alleviate stress, fear and overwhelm by putting down or transforming the weight you have been carrying. To set aside judgement and to respond to life from the present moment, unimpeded by negative thinking or outdated patterns. To clear away the layers of crumbling plaster revealing your strong foundation, your brilliance and infinite worth. To stand with feet both planted firmly on the ground. To breathe deep and to return to your solid centre.
Together we will create the space for your innate brilliance to shine through!
I look forward to working in person from my wonderful little office by the Salish Sea on Salt Spring Island.
The Golden Buddha Cabana, ocean side, BEACHSIDE Café, Accomodation, Paddling and Wellness Centre, 163 Fulford Ganges Road, Ganges BC  or Online from most anywhere in the world.
REVEAL YOUR INNATE CORE BRILLIANCE
The story of the Golden Buddha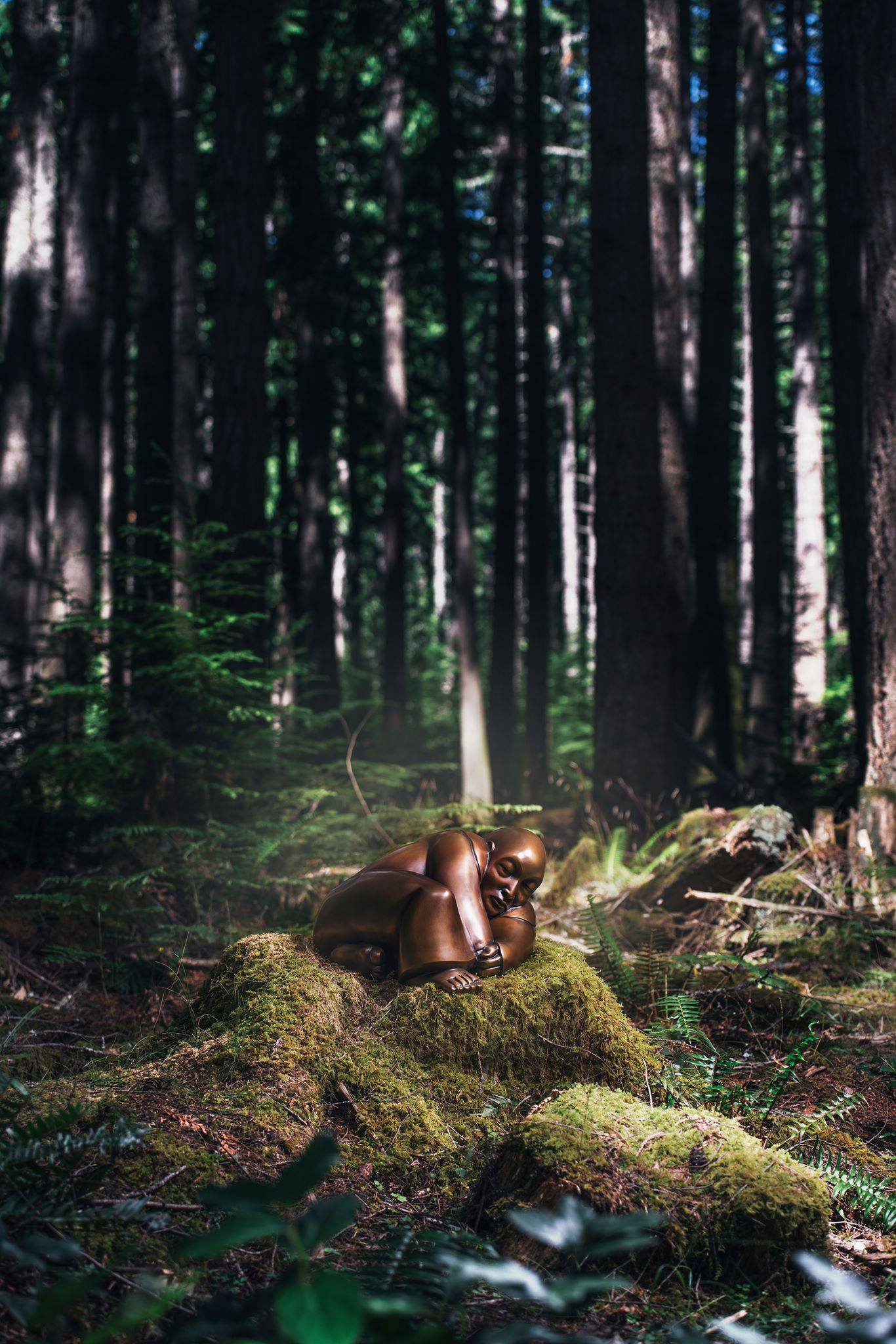 In 1955 a group of monks in Thailand were given the incredibly challenging task of relocating a monumental statue of a cherished Buddha to make room for a new highway.
While attempting to lift the colossal sculpture from its pedestal, the ropes securing it snapped under the immense weight. The precious Buddha fell to the ground hitting hard and shattering away small bits of its plaster coating. Upon close inspection of the damaged areas, a curious golden reflection could be seen shining through the thick layers of stucco. The tenacious monks carefully started chipping away the dense shell determined to free the hidden treasure. To their amazement, this labour of love revealed a solid Golden Buddha that had been safely hidden away for many, many years.
The story goes that close to two hundred years prior to discovering this amazing treasure, it had been completely covered over with layers of stucco and coloured glass to conceal it's true value. The caretakers had masterfully disguised their precious idol to prevent it from being looted during an attack on their temple. The secret of the plaster statue was accidentally revealed when it fell to the ground during the move. 
By falling to the ground the Golden Buddha was finally set free to fully embody its magnificence, true brilliance and infinite worth.
I work as a Transformational Coach with a background of 30 plus years as a Professional Sculptor. I am Certified in the highly effective complementary healing modalities of Havening Techniques®, Advanced Emotional Freedom Techniques, NLP and Hypnotherapy.
These powerful sets of tools allow us to work collaboratively – in a compelling – yet very gentle way – throughout the transformational process. We are able to identify and release or transform that which had previously seemed immovable; giving place to a life of alignment and the hope of moving forward into new and expanded possibilities with grace and ease.
I HELP PEOPLE WHO
Have a desire to heal, transform or create positive change in the way they relate with themselves and/or others
Are willing to look beneath the surface to do the work that will ultimately help them resolve any deep or long-standing challenges in their life – giving way to freedom from a limiting past while creating a purposeful future with unlimited possibilities
Are encouraged by working collaboratively in a solution focused, neuroscience based approach toward their desired outcome
Wish to work in a client centred, compassionate and non-judgemental environment where they will be empowered and supported unconditionally
Together we will "sculpt" your soul deep freedom, revealing your innate core brilliance.
Video Interview with Lynn and Tony Burgess about how Golden Buddha Havening & Hypnotherapy came into being.  
SCHEDULE YOUR APPOINTMENT  
LEARN MORE
Email: lynn@goldenbuddhalife.com to book a 20 minute Complimentary telephone conversation to answer any questions or to explore if we might be a good fit for working together.
Call: +1 (778) 608-0719
Get monthly email updates on ideas, tools, stories, insights and offerings.
The Golden Buddha Cabana, ocean side, BEACHSIDE Café, Accommodation, Paddling and Wellness Centre, 163 Fulford Ganges Road, Ganges BC or Online  from most anywhere in the world.
Lynn Demers at Golden Buddha Havening and Hypnotherapy is a certified practitioner of Havening Techniques®. Havening Techniques is a registered trade mark of Ronald Ruden, 15 East 91st Street, New York www.havening.org